Vacation is always my time of the year to really eat whatever I want. I mean, I eat whatever I want for the most part, but really watch what I eat and monitor my portions. But, on vacation, all bets are off. Food, snacks, drinks, and most importantly, ICE CREAM! This vacation certainly didn't disappoint on the food front…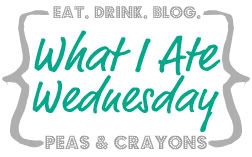 My breakfasts, lunches and snacks weren't all that exciting. In fact, I ate pretty much the exact same thing everyday for breakfast and lunch. Breakfast was always fruit, yogurt, and granola, and lunch, a veggie sandwich with fruit and pickles. Oh, and some cookies and Riesen candies for dessert. I look forward to my Riesen candies every year on vacation. They're one of my favorite candies. Yum.
We did have one lunch out of the ordinary, which was on our way down to Gulf Shores. We left so early in the morning that we were in Birmingham (about 7 hours into our trip) by lunch time. While it would have been easy just to stop at a Jimmy John's for lunch (our original plan), I decided to look up various food trucks in the college town. Luckily, Los Dos Hermanos (The Taco Truck) had a standing location in the parking lot of a gas station, making it easy to find.
I enjoyed a delicious veggie burrito (shared with MacKenna) and Matt and I split a bag of Takis. Definitely held me over the rest of the trip down to the beach.
But, our dinners were really what stood out on our trip. And I will probably surprise some of you – I actually ate FISH on our vacation! I've been a vegetarian for 5 1/2 years and haven't had a bite of meat (intentionally) until recently (back in April I ate some sushi with Matt). No, I'm not giving up my vegetarian ways, but I don't think a bite of fish every now and then is going to hurt anything. Plus, fish has a ton of health benefits and the reason I became a vegetarian in the first place was for health reasons. (It's morphed into more since then, but that's a post for another day.)
Anyway, we ate most of our dinners in the condo, but had plenty of delicious meals out. Our End-of-12-Hour-Drive reward always is a trip to Mellow Mushroom. Apparently, Mellow Mushroom is only a south thing (correct me if I'm wrong), so we only get to have it when we're down in Gulf Shores. It's been 2 years. We've missed it. It's definitely at the top of my list as favorite pizzas.
Our second night in Alabama, we headed to a new-to-us place, Tacky Jack's. Yes, it was in fact pretty tacky. But, it was one of the less crowded restaurants and only had to wait about 20 minutes before we were seated. Of course, 20 minutes after we were seated, it started pouring down rain on us (the only time it rained on us all week) and we ended up eating inside at the bar. Not ideal dining but the food was pretty good. Matt and I both got the fish tacos – 1 order of grilled and 1 order of fried. We split them so we could each try the different ones, and the fried definitely beat out the grilled. Not too fishy and excellent with the cheese (what isn't?).
My parents hadn't planned to go out again while we were vacationing, so Matt and I took advantage of our live-in babysitters and went out, just the 2 of us, to the Hang Out. The Hang Out is one of the busier restaurants in Gulf Shores and you can wait up to and hour and a half just for a table. But, since we weren't in a hurry, our 60 minute wait wasn't too big of a deal and we enjoyed a beer at the bar and the (crappy) 80's band performing on their live stage.
As soon as we sat down, I knew exactly what I wanted: the fish tacos. And these totally stomped the ones from Tacky Jack's. Grilled mahi mahi, black beans, cheese, cilantro, pico, and their special sauce – they were absolutely delicious!
Those were our eats in Gulf Shores, but our last mini-stop in Nashville was also memorable. Matt and I love trying new or different local and craft breweries, so after some research with some help from Yelp, we decided on a brew pub near East Nashville called Fat Bottom Brewing. An eclectic brewery next to a yoga studio – I was at my hippie home. Both of us got the beer flights, which were just OK, but my homemade chickpea veggie burger took the cake. It was absolutely delicious!
We followed up our dinner with a stop at a place I've been DYING to go to for awhile now: Jeni's Splendid Ice Cream. She has several shops in Ohio and only 1 in Nashville, so I absolutely had to go there. (They sell her pints at Straubs in St. Louis, but that is no where near my house and it would take a major trip out of the way to go there.)
We got there at a perfect time because there was a line out the door pretty much right after we got there. The first thing I noticed was her Gravel – sort of like a granola streusel topping for the ice cream. I immediately decided on the donut streusel (powdered donut and sprinkles), but choosing an ice cream proved much harder. I decided to stick to some "normal" flavors and went for a scoop of dark chocolate and a scoop of The Buckeye (chocolate and peanut butter).
Deliciously creamy with absolutely perfect flavors. Matt's (in back) was the Whiskey & Pecan and Brown Butter Almond Brittle, which was one of my favorite samples. Seriously. I want to be Jeni. I think it is my dream job to open up an ice cream shop with fun homemade ice cream flavors. We might just have to make a special stop in Nashville next summer just for Jeni's. It was the perfect way to end our vacation!