My Mother's Day got extended a day due to not having a babysitter on Monday. So, I got to get a little taste of summer with MacKenna and believe you me, I am so ready to be a summer SAHM! We spent the morning relaxing, watching Mickey Mouse Clubhouse in bed, and eating our breakfast together – a luxury I only get on the weekends.
Green smoothie and coffee.
We took our time getting ready and finally made it to the gym around 8:30. MacKenna has been doing great in the gym daycare, so I really am not minding taking her every so often. I plan on waking up early during the summer and hitting the gym for some CrossFit before she wakes up and then going and running with her and Matt a little later in the morning. But, it's nice to know that I have that as an option.
I warmed up on the upright bike and then did a little bit of CrossFit before picking up MacKenna and heading to a local trail for a quick 3-mile stroller run. However, I think my luck had run out with her good behavior because she was cranky in the stroller. I made it up to her by spending a little bit of time at the park.
By the time we were done, I was absolutely starving, so we sat down for a quick little snack. Yoplait Greek 100 calorie peach yogurt with blueberries and strawberries. I seriously cannot get enough fresh berries lately. I've already eaten through this week's stash pretty much on my own.
I also took advantage of my day off by taking my mom out to lunch. We went to Crazy Bowls and Wraps and I totally forgot to take a picture of my Veggie Fajita Bowl. Regardless, it was absolutely delicious and I inhaled the entire hugh jass bowl and chips.
MacKenna spent all her time sleeping in the car that she decided she wasn't going to take a nap for me. Argh. Instead, we had a fun time playing in the living room before heading to meet Matt at the chiropractor. My right side from my hip to my feet has really been bothering me, and my chiropractor verified my misalignment by pretty much adjusting every bone from my head down to my ankles. It. Felt. Awesome! Of course, I'm totally out of alignment already, but it helped a little bit.
Since I had the day off, I was in charge of dinner. I made this delicious Roasted Veggie Mac + Cheese from Pinterest – it was so easy and absolutely delicious. Matt claimed it better than all the vegan one's I used to make. He's not a fan of nutritional yeast and appreciated the taste of real cheese. It was like homemade Velveeta – so tasty!
Dessert was of course a little mug of ice cream with chocolate chips and sprinkles. I've been trying to limit my sweets to once a day and it's been hard, but this keeps my sweet tooth satisfied so I don't overdo it.
Can't wait until everyday is like this again! Only 5 1/2 more days… (Sorry, I'm sure most of you really could care less about my countdown.)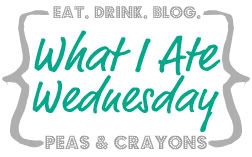 Are you enjoying the fresh summer fruit as much as I am? Are you on dinner duty when you are home first or off work?