Is this week over yet?!  It has been quite the week so far, in good and in bad ways.  I'm totally and completely stressed out and my face and body are telling me that I'm stressed.  *sigh*  I'm just not used to having to work a full 5 days… 😉
I've been trying my best to keep myself from stress eating, since I tend to do that as well.  I said it a few months ago, but I'm still just not happy with my body right now.  It's not that I'm fat – I know I'm not – but it's amazing what 2 or 3 extra pounds does to my self-confidence.  I know that I need to make some changes and just take a closer look at my diet.  Which made me think of this awesome post by Meghann from a few years ago.  It's amazing what small changes can do not only to your body, but to your confidence as well.
So, that's my goal.  Small changes that I can make to my diet.  So, let's take a closer look…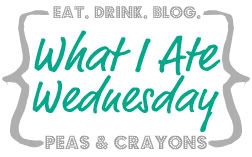 Sometimes I think my hunger has to do with the fact that I am awake almost 3 hours before I actually eat something in the morning.  So, after my 6-miler, I had a 1/4 cup of cashews.  I really struggle to find quick, high protein snacks.  If anyone has any suggestions, I'd be happy to hear them!
Breakfast in the car an hour and a half later.  Are you surprised?  It's of course another smoothie.  I think this was a pineapple, strawberry, and banana smoothie with vanilla protein powder.  And coffee to warm me back up.  I only use creamer in my coffee (I'm a Natural Bliss fan) and I started measuring it out about a month ago because I knew I was going overboard with the cream.
I had a salad for lunch, which is something I always look forward to.  I am trying everything I can to increase my protein vegetarian-style, so I threw in some chickpeas.  Plus, an apple on the side, along with some hot chocolate to warm me back up.  Do you see a pattern here?  Meals are especially hard with my body temperature, as all my blood flow goes to my stomach for digestion, leaving me with numb/white fingers.  It's not as bad when it's warm out, but January through the end of April is usually the worst time for my Reynaud's.  How do I warm up without adding liquid calories?
My snack in the afternoon was a mix of raw cashews and raisins.  This does nothing to hold me over and I ended up snacking on some of MacKenna's dried fruit when I got home from work.  It. Is. My. Weakness.
Monday evening was beyond stressful, so I ended up forgetting to take a picture of the delicious leftover pizza from a new pizza place up the street from that I ate.  Not as good leftover, but you can never go wrong with veggie pizza!
And some puppy chow to end my night with something sweet.  OK, so I forgot to take the picture until I ate everything out of it, but I'll admit that I look forward to eating the dried chocolate cake mix with a spoon.  Nom nom nom.
Since I didn't realize not everyone knows what Puppy Chow is, it is rice Chex with melted chocolate and sometimes peanut butter (I used Biscoff in place of PB), and then you shake it with powdered sugar – or a mixture of powdered sugar and cake mix.  Seriously, nom nom nom…
I KNOW I need more protein in my diet.  I KNOW I have to stop with the extra snacking.  And I KNOW I need to limit my portion sizes.  Since I upped my mileage lately, I'm still trying to figure out how to fuel my body.  Do I need to eat more or am I really overeating?  Or is it something else that I'm totally overlooking?  I don't know for sure, but I know there are some changes I can make that can make me feel a little bit better about myself…