Today is my last official day of my first year of teaching. While it has been a long and trying year, I really do feel like it has flown by as well. I still have a lot to learn as a teacher, but I feel like I have grown so much this past year. I am becoming much more confident in myself and my abilities, which has helped me immensely with my classroom/behavior management, my biggest struggle this year.
Next year is going to bring a whole new set of challenges. I will be teaching new classes, new curriculum, and taking on a new role as the head volleyball coach. I am excited and nervous, but can't wait for next year to start. Although, I also can't wait to spend the next 2.5 months with MacKenna at home. I'll still be doing plenty of work (who says teachers get the summer off?!), but it'll be nice to have some time with my family before things get crazy again.
Since today is WIAW and I really haven't been doing a great job at keeping up with these, I figured I'd give you an insight to what I've been eating everyday for the past 180+ days…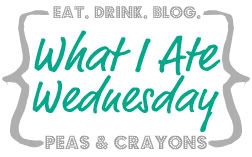 Breakfast
Breakfast is absolutely ALWAYS a green smoothie. I very my fruits everyday but it is always the same base recipe:
1/2 banana
1 cup of frozen fruit (usually 1/2 cup of 2 different fruits)
1 tablespoon chia seeds
1/2-3/4 cup milk (I eyeball it)
1 scoop vanilla protein powder
1 handful of spinach
This won't hold me over lunch, so I always have some dry cereal in the car after I finish my smoothie. Either Frosted Mini Wheats or Quacker Oatmeal Squares. Easy to eat in the car and doesn't make too much of a mess. Coffee is usually involved as well.
Lunch
My lunch time this past semester has been at 10:48. Yuck. It's a good thing I'm usually starving by then, otherwise this would be way to early for me. I like to eat leftovers most of the time, but it's usually some sort of veggie, protein (veggie burger, quinoa, beans, etc.), and Greek yogurt. Yesterday, I had a salad with tomatoes, carrots, broccoli, hummus, homemade Italian dressing, and croutons with some Yoplait 100 Calorie Greek Yogurt.
Unfortunatley, I forgot to take a picture, but you can imagine the deliciousness.
Snack
I always keep a dozen or so protein/granola bars in my desk drawer for easy snacks, as well as some honey roast peanuts. I'm usually running out the door to head over to the high school to coach or trying to enter my grades before I leave for the day, so I need things that are quick and easy. Protein bars are perfect! My mom gave us some Kashi ones for Easter that I have been snacking on for the last couple of weeks. Plus, it gives me my chocolate fix.
Dinner
Last night, we had our 8th grade awards ceremony, so I didn't get home until around 7 PM, after Matt + MacKenna had already eaten dinner. Thankfully, we had some leftover brown rice, so I threw in some veggies ay.nd a leftover black bean burger, microwaved it, and voila! A quick, delicious dinner, despite the fact that it looks nasty.
Dessert
I have a slight cereal obsession. I LOVE dry cereal, especially for dessert. Matt bought me some chocolate shredded wheat cereal last week and I am addicted to it! They have little bits of chocolate mixed in that make them even better.
I'll be honest: I can't wait to not have to worry about making my breakfast and lunch every single night for school the next day. And maybe, just maybe, I'll eat something besides a smoothie for breakfast. Or maybe not…
What are your favorite grab-and-go snacks? Does your eating schedule change on a daily basis or is it the same every day (what you eat/at what time)?