I thought I would try something different this week for What I Ate Wednesday.  I usually share my weekday meals, but you might be surprised at just how different I eat on the weekends.  Saturday was a little different because we had a ton of stuff going on, but most Saturdays look something similar to this.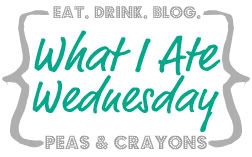 I was up early at 5:30 AM to get ready for the race.  Wash U isn't exactly close to my house (I'm about 45 minutes west of downtown St. Louis and the college is near downtown) and I still needed to pick up my bib, so I wanted to get there in plenty of time.  I grabbed 2 peanut butter date balls that I made last week on my snow day to give me some energy before the race.  I actually think this made a big difference in my speed since I normally don't eat before races.  It was just enough to fuel my muscles without upsetting my tummy.
After the race was over, I was starving – and freezing!  This was probably one of the better spreads of post-race samples of the races I've done recently!  Usually it's just bagels and bananas, but First Watch had a whole spread of yogurt and granola, coffee, and muffins, plus there were the essential bagels and chocolate milk protein drinks.  I grabbed me some yogurt and coffee and found a spot on the floor inside to eat and warm up.  I forget how much I absolutely LOVE yogurt and granola!  It doesn't hurt my stomach (like pancakes and oatmeal do) and it's super healthy and packed with protein.  I need to start eating this more instead of smoothies!
I also stopped by my favorite local coffee place on my way home – Kaldi's Coffee – for a some more warmth.  I am a decaf drinker and this caffeinated Highlander Grogg had me wired for the rest of the day.  I was so jittery but I didn't mind too much.  And had 1/2 a banana with peanut butter when I got home.
Matt and I dropped off MacKenna at his parents for the rest of the day so that we could go house hunting and go to a trivia night that evening.  It was nice to spend the majority of the day with just the two of us.  We've been so stressed with selling the house and getting things ready to move that we haven't had a lot of time for each other.  I grabbed a quick bowl of cheddar bunnies and mozzarella cheese before we headed out the door for the rest of the day.
We walked around GFS Marketplace (like Costco or Sams without a membership fee) and Costco so I filled up on some free samples as well.  It was a very snacky day, but sometimes those are my favorite!
Trivia night was more snacks and I totally forgot to take a picture of everything I devoured.  I had some chips and salsa, pretzels, veggies and Fiesta Ranch dip (my favorite), cake batter corn bread, and Reese's Pieces puppy chow/muddy buddies (which, BTW, have no chocolate – YES!).  Our table actually WON trivia night too!  Who says a bunch of PE teachers aren't smart?!  (Well, really, Matt kind of kicked butt as well as one of the principals at my table.)
I was pleasantly full at the end of the night and not stuffed, which is always #winning for me.  I'm getting better about eating intuitively again and starting my day with something – peanut butter balls or a banana with PB – has really been helping curb my afternoon munchies (ignore this weekend).  I wish I could say it was helping with my energy levels but holy cow, daylight savings time has completely zapped my energy this week.  I'm so ready for Spring Break next week!
In other news, we are back to patching MacKenna.  She had her 1 year post-surgery check up on Monday and even though her vision is fine, she still has some instability in her left eye.  It's not bad enough for another surgery or refractive glasses, so the doctor suggested patching her a few hours a day for the next 3 months.  She is actually doing really well with it, except when it comes time to take her patch off.  But, she loves being a little Pirate Princess!
Also, this finally happened…
AHHHHH!  #1 reason why I am stressed right now.  We sold the house about 2 weeks ago and everything is pretty much officially through now.  Our realtor put the sold sign on yesterday – it was the best thing to come home too after a long day at work!  Let the packing begin!