Most of my What I Ate Wednesdays consist of the same foods over and over:  smoothie for breakfast, salad for lunch, protein bar for a snack, boring dinner.  I even wrote about those boring, everyday foods are somewhat of my comfort foods.
But, believe it or not, I've actually been branching out a little bit, trying some new things and adding them into my regular cycle of foods.   These aren't off-the-wall foods, but foods that are new to me.  OK, so my daily smoothie doesn't change much (except on the weekends), but I have been trying to be a little more interesting.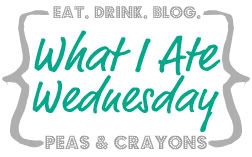 Some of my new finds have been…
Nacho Cheese Tortilla Popchips – trying to find gluten free and tasty chips is not necessarily easy (I need to give you an update of my semi-gluten-free eating).  These, however, are delicious!  We bought a bag at Costco, brought it for Easter dinner, and left without the bag.
100 Grand Candy Bars – why am I just not discovering how delicious these are?!  I had a student bring me a bite sized one for Teacher Appreciation Week and I immediately wanted another one.  Thankfully, my wonderful husband heard my plea and bought me this one for Mother's Day.  Oh, there will be more in my future.
Margaritaville Singles to Go – another great find by the husband that I received for Mother's Day.  I really love flavored water and this is absolutely the best I've ever had!  And I've only had the strawberry daiquiri one so far.  It's really freaking good!
Quiche – OK, so this is not exactly a new thing since it's been in our dinner rotation for a few months now, but it is my second favorite dinner after pizza.  I mean, crust, cheese, veggies, eggs… it doesn't get much better than that!
What are the new (or new-to-you) things that you've been loving lately?