After talking about my struggles with eating on Monday, I decided I really did need to do something about it.  I stopped counting calories way back when I was pregnant, but I knew that not only had it helped me manage my weight in the past, it was also going to be away for me to really break down my portions and analyze where my "diet" was lacking.  So, I busted out my handy dandy My Fitness Pal app and started tracking.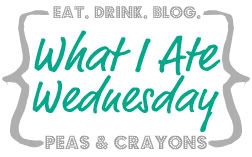 Started my day with a smoothie, as always.  I'm so freaking boring, but I just feel good after I eat it.  Oatmeal never made me feel good after.  My daily smoothies not only fill me up, but they don't cause me to run to the bathroom immediately afterward like oatmeal always did.
Breakfast Calories:  442
Since Monday was another snow day (don't worry – I've worked Tuesday and today), MacKenna and I headed to the gym so I could get my run on.  6 miles on the treadmill weren't so bad.  I'm sort of getting used to the treadmill and don't despise it nearly as much as I used to.  That doesn't mean I'm not looking forward to sidewalks again…
Cardio Calories Burned:  563
I typically don't have a morning snack since I am busy teaching in the mornings, but I needed Starbucks.  Of course, Matt now has Passbook on his phone and since we share an account, he will know anytime I get Starbucks.  Darn it.  I guess that will help me curb my addiction.  I've fallen in love with their Tiramisu latte.  Non-fat, no whip for me.
Morning Snack Calories:  260
My BFF Julie had read my blog Monday morning and immediately texted me to ask if I wanted to meet her and her little girl Molly at the mall to play.  Um, YES!  I was so thankful to have someone to not only talk to, but someone MacKenna could play with as well.  We shopped and played for several hours and also had a delicious lunch at Bread Co. (or Panera for all you non-St. Louis peeps).  I had the Fuji Apple Salad (it's gluten free!) and gave MacKenna my roll.
Lunch Calories:  440
This is where I really start to struggle with my eating, and I'm realizing more and more it's because I'm not eating enough for lunch.  Now, if I hadn't ran 6 miles, 440 calories probably would've been OK.  But, with a longer run, my body was starving, and my snacks proved it.  Some dried mango, fruit + nut trail mix, and a huge spoonful of peanut butter.  My afternoon snack ended up larger than my lunch!
Afternoon Snack Calories:  500
Monday's are always quick dinner nights because of gymnastics, and this quinoa with broccoli and cheddar one-pot dish is one of my favorite meals!  We top it with buffalo wing sauce and sunflower seeds for a little extra crunch.  It is so delicious and filling (and I get to take the leftovers for lunch)!
Dinner Calories:  417
Dessert is always a must and ice cream was just sounding delicious.  I actually scooped in what I normally do and then ended up measuring it.  A LOT more than 2 servings, which is a problem.  Plus, add in 2+ tablespoons of chocolate chips and sprinkles, and my dessert is, again, more than most of my meals.
Dessert Calories:  485
Total Calories = 
I have My Fitness Pal set to "maintain" instead of lose or gain weight.  The calories work much better for me, as too few calories makes me feel like I'm starving and my body tries to compensate for it.  I actually went OVER my recommended number of calories by about 100 calories, and guess what?  I stepped onto the scale the next morning and saw my "happy place" weight for the first time in probably a month.
Conclusion:  I need to eat bigger meals so I don't feel the need to snack as much and go overboard on my snacks.  Seriously, I will still be starving after lunch and will just take handfuls of raisins at a time all afternoon.  Not good.
Will I continue to count calories?  Absolutely NOT!  I can't believe I used to do this every day for years.  Now, I might track my intake for a week or so when I really feel like I'm struggling again, but there is no way I could ever go back to daily calorie counting.  And I really do feel like I am getting much better at eating intuitively – sometimes I just need a little extra reassurance.