So, it's been awhile since I've done a What I Ate Wednesday and figured our trip to California was a great excuse to show off all the absolutely delicious food we ate while we were there.  I know I haven't told you anything about our trip yet (the plan was to do that last week, but I ended up getting pretty busy with homework and coaching and missed my opportunity), but I promise I will be doing a full (condensed) recap on Friday.  I will just say that it was an awesome trip, and the food is proof in that!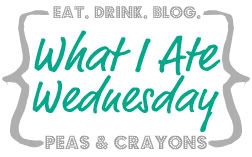 Our dining spots came from many different locations up and down the west coast.  After our flight into LAX on Thursday (how was this almost 2 weeks ago?!), we had a 3.5 hour car ride up the Pacific Coast Highway to San Luis Obisbo where we were staying for my cousin's wedding.  Matt and I already knew that we absolutely HAD to stop at
In-N-Out burger
, so we convinced the rest of my family to stop on our way up.  I went "off menu" and got the grilled cheese, which is just their classic burger without the burger.  Seriously.  How can a burger without the burger taste so delicious?!
While my parents were at the rehearsal dinner with the rest of my family, the four of us (Matt, my brother + SIL, myself, and of course our kiddos) headed out to "explore" San Luis Obisbo.  We had done our research before the trip and settled on SLO Brewing Company.  While they all enjoyed some beers, I was craving some comfort food (that I could also share with MacKenna) and went for their house favorite veggie Mac + Cheese.  Comfort food but not too heavy – it was perfect after a long day of travel!
After dinner, there was also a street fest that takes place every Thursday night that we decided to explore, but really because my aunt told me there was a really good ice cream place around the corner.  Doc Burnsteins Ice Cream Lab was so unique and creative with ice cream flavors to match the "theme".  I got both coffee flavored ice creams they offered (Coffee Fudge and Doc's Java, one with chocolate espresso beans and I don't remember what was in the other).  So creamy and delicious that even MacKenna approved!
The only breakfasts worth mentioning were our 2 days in San Luis Obisbo.  Embassy Suites offers a hot breakfast with fresh made omlettes.  I secretly really like eggs, especially omlettes, but I just suck at making them.  So, these were absolutely perfect for what I was wanting (and kept me full for a significant amount of time).  They had tomatoes, bell peppers, onions, jalapeños, and cheddar, with a bagel on the side.  Can someone please come be my personal chef so that I can have this every day?!  PLEEEEEEEEEASE?!
Our second day was a quick visit to Pismo Beach before the wedding, where we saw this cute little place called Chipwrecked.  The name alone begged for me to come in.  They had a variety of different chips with different seasonings, toppings, and dips, but I ended up going with the classic chips with some different dips.  We had chipotle, beer cheese, sirracha hummus, and cheesecake.  Believe it or not, the cheesecake dip was actually my favorite!  Matt's had chili salt with jalapeños and cotija cheese on top.  Since I'm technically not supposed to have the soft cheese, I passed, but the chip I sampled from him was really delicious.
Friday night was the wedding, and following my family's tradition of taco night on Friday nights, my cousin served tacos at her wedding!  Um, best wedding food EVER?!  I think yes!  Too bad I didn't take a picture of my delicious tacos.  Unfortunately, my child was having a massive meltdown because I wasn't letting her dance on the dance floor when people were trying to go through the buffet line.  Ugh.  But, I did end up getting to enjoy my food after finally getting her settled down.
After the wedding on Friday, we headed back down to LA on Saturday and made another pit stop for lunch.  My SIL Sara and I researched a few places in Ventura while we were driving and both decided that Beach House Tacos was the way to go.  I got 2 Baja fish tacos, one grilled, one fried.  They were absolutely delicious – probably the best tacos I had on the trip (we had A LOT of tacos)!  Plus, chips (mostly for Kenna, but she was having a full blown meltdown while we were trying to eat because we weren't letting her go to the beach) and a deep fried banana, which was delicious as well!
My dad travels out to Huntington Beach pretty frequently for work, so he suggested going to BJ's Restaurant and Brewhouse for dinner.  It's a chain restaurant, but once he said "pizza", I knew I'd be happy.  Matt and I split a "deep dish" veggie pizza that tasted like a better Pizza Hut personal pizza.  It was pretty good!  We also split 2 pizookies (pan cookies with ice cream on top) but we all ate everything so quickly there was no time for pictures!
We spent the next 2 days in Disneyland where I completely forgot to take pictures of my food!  The first day in Disney, we ate at the River Belle Terrace, where I had the black bean cakes.  They weren't at crispy as I would have liked, but they were still good.  I had a garden burger with fries the next day, so that's nothing too exciting anyway.  I will say that I am impressed with the vegetarian options at each restaurant, though!  I was perfectly happy with a garden burger (for 2 meals, actually), but the black bean cakes were a nice surprise.
Our first day at Disney didn't involve dinner plans because we already had some with my extended family at the Pint House, which is in Orange near the Angels stadium.  (Side note:  it was really weird watching Pujols on TV again while we were eating.  Still mad at him though…)  Most of my family went for the beer, but I was there for the food!  Lately, I've been craving fish and chips (fish has to either be in taco form or fried for me to eat it at this point), so I was happy to see theirs were battered in Dogfishhead IPA beer.  While it tasted really good, it hurt my stomach really badly.  Apparently, baby doesn't like fish and chips/fries as much as Mama.  The garlic parmesan fries were awesome though!
Oh, and I absolutely CANNOT forget the AH-mazing Dole Whip Float we had for dessert our last night at Disneyland.  Matt got one last time and I totally missed out on it, and he has been trying to recreate it at home since.  This was so super sweet and really freaking good too!  (We are actually going to the zoo today to go get another one because they sell them there…)
Our last day of the trip was a "tourist" day, so we headed out to Huntington Beach.  This was officially deemed Taco Day for me and Matt.  We decided that we really didn't care if we ate tacos twice that day, so we both ordered tacos for lunch at Fred's Mexican Cafe.  These were also really good – I LOVE slaw on my fish tacos, but the Beach House tacos were still my favorite.
It was also taco night at my aunt's house.  This is usually a Friday deal in LA, but since the wedding was on Friday and we were leaving on Wednesday, she made sure we had our taco night.  OK, these were a very close second to the Beach House tacos (I actually made them last night for dinner).  She fries the corn tortillas, which make a world of difference!  So. Freaking. Good.  It has now become Taco Tuesday for the Van Horns from here on out (because Friday's are reserved for pizza + beer).
And of course, Matt couldn't let us leave without getting some paletas at the local Mexican ice cream place.  I had the Angel's Kiss, which is cherry ice cream with raisins, marshmallows, and almonds.  Things I would normally hate in ice cream but is delicious all put together.
OK, so that was a loooooong WIAW and a LOT of food, but you really can't beat the delicious food out on the west coast!  I'm pretty proud of myself for being able to remember all of that (well, most of it) a week later!  Can't wait to tell you about the rest of our trip on Friday!