It's been quite awhile since I've done a What I Ate Wednesday. I amazingly remembered and had time to take pictures of my eats this week. I'm so proud of myself…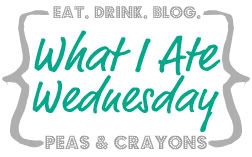 Yesterday was my first official day of summer (Friday was 6th grade graduation and Monday was Memorial Day, so neither of those count) and also my first day of being a stay-at-home mom for the summer! Of course, MacKenna isn't really a fan of letting her mama sleep in and was up right at 6 AM. So, we got an early morning run in together. 4 miles in 33:40. I'm dealing with some side stitches that I only really get when pushing the stroller. Anyone know why this might be happening? I have a stroller race this weekend and would like to have them gone by then!
Breakfast involved a delicious smoothie in a bowl. I know, I know. I'm not working right now, so I don't have to eat a smoothie every day anymore, but it just sounded so refreshing after my run. It. Hit. The. Spot.
Plain Yogurt
Rolled Oats
Chia Seeds
Vanilla Protein Powder
Banana
Blueberries
Strawberries
Spinach (I promise it's there even if you can't see it)
Granola
Peanuts
My mom is loving me having the summer off just because it means she can see MacKenna almost daily on her lunch break again (like she did during my maternity leave). Mac + I went and picked up Gigi at work and had lunch at First Watch – one of my absolute favorites! They have a new (to me) menu and a new veggie sandwich that I just couldn't pass up! I love melty cheese with vegetables! (There were leaves on the side also that I ate before taking the picture.)
I was in charge of dinner last night. With both of us being off and loving to cook, we are trying to alternate nights cooking (or I am forcing us to alternate because I am Type A and have to have our meal plans planned out for the week). Veggie burgers that I adapted from Emily's recipe (one of my favorites!) and sweet potato fries with ketchup, of course.
Snacks included a fruit leather with peanut butter, leftover roasted veggies with cottage cheese, and chocolate Chex cereal (x2). I was a little disappointed when I realized that I finished off the last of my quart of vanilla Fritz's Monday night and didn't have that for dessert. Boo. Thankfully, chocolate Chex satisfied my sweet tooth (along with some chocolate chips).
MacKenna's Eats
We're getting better with the solid foods so I figured I'd share what she's been eating. She's now eating 2 solid meals a day – breakfast + dinner. Breakfast is currently oatmeal baby cereal made with formula and some banana (which you can ignore on her tray because she didn't eat any of it – Matt fed her with a spoon).
Dinner is almost always avocado – it's just about the only thing we can get her to eat really well – and last night was squash as well. She ate really well last night, so I'm thankful for that! It's still not great, but she's getting much better.
Do you eat the same foods over and over, even if you have other options? What do you do if you realize you were out of something you really wanted to eat?