So, instead of doing my "What I Ate Wednesday" from yesterday's eats, this is a "What I Ate LAST Wednesday". It was just that good!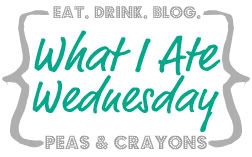 Since Matt had Wednesday off, we decided to introduce MacKenna to Mommy + Daddy's spontaneous outings. Earlier in the week, I was watching one of the local TV shows when they did a feature on a fairly new concept to St. Louis:
fried pies
.
Matt loves some fried pies. There used to be a fried pie place down in Branson that closed a few years ago and he's been distraught over it ever since. So, when I saw that we now had a fried pie place in St. Louis (well, down south in Eureka, MO), I knew he'd be excited. I didn't expect him to be so excited that he wanted to go the very next day.
We decided to each get a savory pie along with a sweet pie. I chose the mushroom + spinach pie, which was like creamy rice soup in a pie crust, and Matt chose the "comfort" pie, which had sausage and au gratin potatoes.
We both thoroughly enjoyed them! The crust was flaky + buttery, and not too greasy, which I appreciated. It really took comfort food to the next level, for sure.
I had a difficult time deciding which sweet pie I wanted. I am not much of a pie person – something about something so savory like pie crust with sweet filling just doesn't work for me. But, you know everything tastes better fried. I was tempted to go for my favorite pie, apple, but I knew I couldn't pass up the seasonal pumpkin pie (although, I hate pumpkin pie). Matt quickly decided on the coconut cream, which we split for dessert after our savory pies.
The coconut cream was absolutely amazing! It made me want to go make a coconut cream pie just to see if it would make me like pie a little more. I will definitely be trying it sometime.
By the time we split the coconut cream, we were stuffed, so we saved the pumpkin pie for another night. It definitely didn't even come close to the coconut cream, but I still liked it OK. Definitely sticking with the coconut cream the next time we go.
Oh yes, there will be a next time… and hopefully I will avoid the stomach ache that plagued me the rest of the night the next time we go also.
Have you ever had a fried pie? What kind of fried pie would you choose?