How is it already November? Where the heck did October go? I guess I was just a…
little…
busy…
…last month, which sucks because October is my favorite month of the year. But, that little face definitely made up for it going by so quickly!
Not only did we start a new month yesterday, but MacKenna also had her 2 week birthday!
So, what did this new mama eat the first day of November?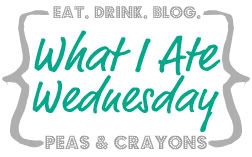 Breakfast
A delicious bowl of pumpkin oats to start the morning off on the right foot.
1/3 cup oats
1/2 cup vanilla soymilk
1/2 cup water
1 tablespoon flaxmeal
1/2 banana
1/3 cup pumpkin
small piece chocolate chip cookie bar
spoonful of peanut butter
Lunch
I'm on a melty-cheese kick right now. I want melted cheese on everything – I think this is craving that has carried over from pregnancy. (Speaking of, I still haven't quite gotten over those aversions – salads are the last thing I want right now.)
Yummy grilled cheese + tomato sandwich on whole wheat with grapes on the side.
And a handful of peanut butter M&M's for good measure, since I didn't get any candy on actual Halloween.
Snack
This is probably more like Lunch #2, but we'll count it as a snack. And one of my favorites too.
Juicy Fuji apple, cheddar cheese, and Wheat Thins (another huge craving right now).
Dinner
I was on my own last night since Matt had parent teacher conferences. Cooking dinner on your own with a fussy baby is a little difficult, but she behaved just long enough for me to whip up a bowl of fried rice.
Dessert
Yummy frosted black cat cookie to finish off the day… mmmmmm…
I'm nervous that I'll never want to eat a salad again and will only want melted cheese on everything for the rest of my life. OK, hormones, time to settle down…
If you could eat one thing for the rest of your life, what would it be? Obviously, mine would be cheese + Wheat Thins right now. Yum.